Asha the Dog predicts the World Cup
Asha's methodology is to pick between two equal dog treats placed slightly in front of her. We try very hard to keep everything the same for each pick. She predicted pretty much every Liverpool result for 2014 so we thought we'd see how she did for the World cup.
It looks very much that because she can't indicate a tied game that her group results are going to be a little off as there are always draws. We imagine she'll do much better for the knockout stage.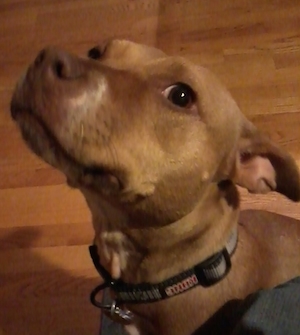 2014 World Cup Round of 16 Predictions
26th June 2014

Round of 16
| | | | | |
| --- | --- | --- | --- | --- |
| Date | Team | Team | Asha's Pick | Correct |
| 28/Jun | Brazil | Chile | Brazil |   |
| 28/Jun | Columbia | Uruguay | Columbia |   |
| 29/Jun | Netherlands | Mexico | Netherlands |   |
| 29/Jun | Costa Rica | Greece | Costa Rica |   |